Activities
In the municipalities of Lærdal and Aurland, you can wander along historic royal roads or in the stunning beauty of Aurlandsdalen valley. You can play a round of golf at the historic Rikheim Gods estate or cycle along the fjord or along the Navvies' Road (Rallarvegen). Swim in the fjord or fish in a mountain lake. Pick strawberries during summer and mountain cranberries in the autumn. The region has a dry and mild climate with opportunities for activities nearly all year round.
Boat trips on the Nærøyfjord and Sognefjord
The Sognefjord is Europe's longest and deepest fjord. Stretching 204 kilometres inland, it is nearly 1,300 metres at its deepest. Treat yourself to one or two days here – it is exciting at any time of year, summer or winter. During spring, the budding fruit trees are at their most beautiful, and in the autumn you can experience nature's kaleidoscope of colours. A daily, year-round express boat service departs from Bergen for the Sognefjord, calling at Balestrand, Vik, Leikanger and Sogndal and returning to Bergen.
1 May – 30 September: return service Bergen-Flåm.
1 May – 30 September: Nærøyfjord car ferry operates between Kaupanger-Gudvangen + Fjærlandsfjord boat/car ferry between Vangsnes-Balestrand-Fjærland.
The Flåm-Aurland-Gudvangen passenger boat service operates all year round.
Car ferries cross the Sognefjord throughout the year.

Website: fjord2.com
Fjord safari – Flåm
With the help of one of our experienced guides, the fjord safari provides the best opportunity for an exciting, beautiful and informative experience of the dramatic Nærøyfjord, listed as a UNESCO world heritage site. In our safe and comfortable inflatable boats, we offer the best possible start to experiencing nature, cultural heritage and animal life up close.
We explore the landscape preservation area of the Aurlandsfjord and Nærøyfjord, listed as a UNESCO world heritage site for its dramatic fjord landscape, its cultural heritage and the rich animal life. The area represents one of the most extreme, stunning and grand fjord landscapes in the world.
We will stop to look at animals and old farms perched high up on mountain ledges above the fjord, and our guide will tell you about the fjord landscape, the local history and the animals living in and along the fjord.
Choose between 1.5, 3 and 5-hour fjord safaris. Daily departures from Flåm harbour from May to September, or on request.
In addition to our regular safaris, we can offer tailored excursions in combination with other activities for all kinds of groups and special occasions all year round.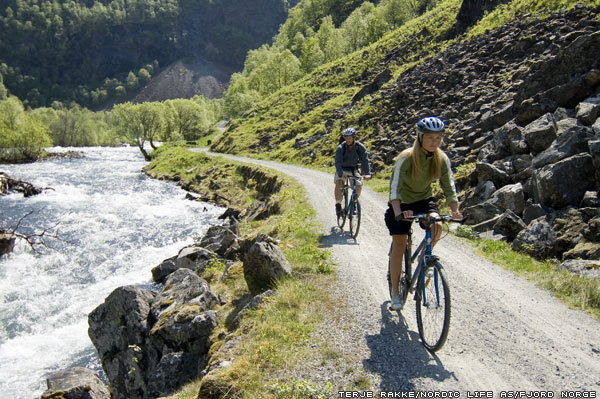 Excursions – historic trails
The many historic trails in Lærdal are both national tourist attractions and good hiking routes. Near Borgund stave church you will find the Sverrestigen, Vindellavegen, Seltåsen and Galdanevegen trails. Fifteen kilometres of the old king's road wind between eastern and western Norway still exists between Kyrkjestølen on Filefjell mountain and Maristova.
Sverrestigen
Running between Husum and Borgund stave churches, the name originates from the Norwegian king Sverre Sigurdsson (1145-1202). Access by bus or car. Parking at Rimskjold community centre or Borgund stave church.
Vindhellavegen
Runs between Husum and Borgund stave church. In combination with Sverrestigen, this makes a great round trip. It is easily walked from Borgund stave church to Husum and is accessible by bus or car. Bus stop and parking at Borgund stave church.
Trail over Seltåsen
A great hike where you pass several viewpoints facing the smallholding Galdane and the Sokni waterfall. The trail is an impressive construction, with walls of over 18 metres. Access/parking at the Koren lay-by.
Galdane-Seltåsen
A beautiful round trip starting at either Seltun or Sjurhaugen, passing the smallholding Galdane and descending along the Lærdalselva river. The walk takes around four hours.
Øygardsvegen
Øygardsvegen links Vindhellavegen and Sverrestigen with Seltåsevegen and the king's road over Galdane. It forks off just before Nedre Kvamme bridge (500 metres below Husum), where you can find the remains of all the old trails. Access by bus or car. Parking at Husum or Sjurhaugen.
There are toilets at Borgund stave church or Koren lay-by.
Walk around Lærdal centre
Lærdal centre-Hedler-Mjølkeflaten-Stødno-Øyabrua-Lærdal centre
Starting at Lærdal centre, cross the bridge towards the Fodnes tunnel (the Rv 5 road) and turn left. Walk along the beach. You can walk via Mjølkeflaten directly (81 metres above sea level), or via Jektesanden. From Mjølkeflaten, continue towards Stødno, the farm track to Øyabrui and onwards along the river back to the centre. The round trip takes around two hours.
Saltkjelen-Ljøsnaveiti
Start at the Saltkjelen bus stop at Ljøsne (some 15 kilometres from the centre by the E16 road). The route is signposted and has information points. The irrigation channel was constructed in 1890 to lead water to the farms at Ljøsne on the hillside terrace. Now mainly a hiking route, it is an impressive construction, running through beautiful natural surroundings with interesting flora. Lying around 120 metres above sea level, the walk takes between 1-2 hours.
Lærdal centre-Oftedalen
Start at Oftebrua, around 300 metres east of the hospital (roughly two kilometres from the centre, you can walk from the centre to Øyabrua along the river). Follow the Ofta river upstream on the left-hand side to Stølsbrui bridge and cross it. You will see the information point where the mountain trail begins. A pleasant route with en route guides and signs with names of places, with beautiful landscapes and views of the valley and the fjord. Oftedalen lies around 780 metres above sea level and the walk from Ofta takes around 2-3 hours. Alternatively, there are mini-walks to Nedre Vangen (85 metres above sea level), Øvre Vangen (180 metres above sea level) or Løberghaugen (375 metres above sea level).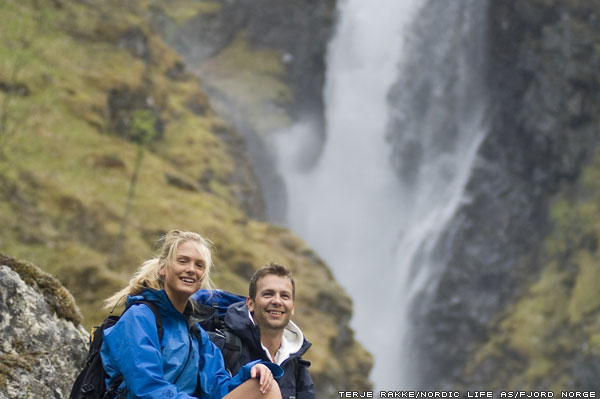 Lærdal Sport and Recreation
Provide guided mountain walks, cycle rides and fishing trips. Cycle hire: Steppenwolf cycles. Boat hire. Online booking of activities and accommodation. Website: www.laerdalsport.com
The Sognefjord cycle route
is 120 kilometres long. Starting at Borlaug (45 kilometres from Lærdal centre heading towards Hemsedal/Gol), Borgund stave church (dating from 1180) is the first major attraction you encounter. Continuing down Lærdalen valley, you pass impressive old roads, some dating back to the Vikings. The ride is downhill, partly along the E16 road, partly on municipal roads. Several parts of the route follow the Lærdalselva, Norway's most famous salmon river. In Lærdal centre you can visit the Norwegian Wild Salmon Centre and Old Lærdalsøyri with its unique buildings. From Lærdal, take the ferry to Kaupanger (four departures daily during summer). You continue on to Luster, taking the ferry from Solvorn to Ornes, where you will find Urnes stave church. You can follow the fjord to Skjolden and on to Turtagrø via the Sognefjellsvegen route if you like.
Route description:
Borlaug-Steinklepp-Lærdal is a varied route totalling 45 kilometres, mainly on asphalted road, along the E16 and quieter municipal roads. You follow a historic route, cycling on roads built using old techniques, in dramatic natural surroundings.
The road from Kaupanger ferry quay to Sogndal is busy. It is possible to put your bike on the bus in connection with most ferry arrivals and departures.
Fishing in Lærdal
Fjord fishing: Free.
River fishing: Lærdalselvi river is open for salmon and sea trout fishing. Inland fishing is permitted in the upper section, costing from around NOK 400 per day.
Lærdal Sport and Recreation offers fjord fishing trips.
Mountain lakes: The tourist office sells fishing permits and maps for mountain lake trout fishing. A day's fishing permit costs from NOK 50.
External links