Climate
Four seasons by the fjord
The fjord landscape is beautiful at any time of year and Aurland, Flåm and Lærdal are an accessible tourist attraction all year round. You can arrive by train, express bus or car and the Norway in a Nutshell round trip operates all year round. Most tourists come during summer, but you are very welcome to join the increasing number of visitors who wish to experience another season.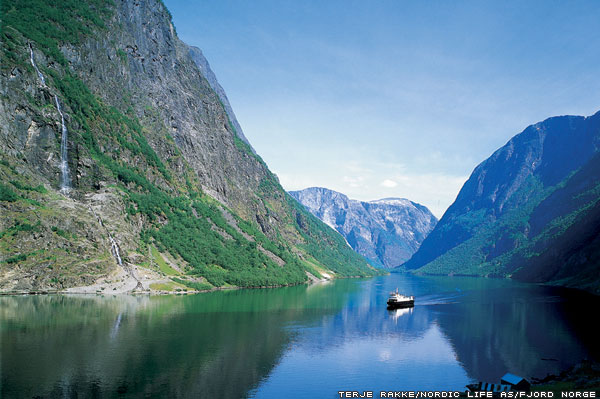 The spring is both wild and wonderful, the season with the biggest contrasts, and seen by many as the most beautiful. If you visit us in April or May, the mountains are still snow-covered, the snow melting makes the waterfalls an impressive sight, and down by the fjord, the fields are green and the fruit trees blossom. From 1 May, you can take the world's most beautiful ferry trip between Lærdal and Gudvangen and experience the Nærøyfjord in its spring finery.
A boat trip from Gudvangen to Flåm on the Nærøyfjord or a journey on the Flåm railway is especially exciting in winter when the mountains are snow-covered and the waterfalls frozen. Even though the weather can be changeable, the view is nearly always good. A walk out on deck is bracing!
In autumn, the mountains offer amazing colours, blueberries and mountain cranberries. This is a great time for mountain hikes. The air is clear and the visibility is good, but remember suitable clothing, since there are rainy days in between. Autumn is also the harvest season for apples, pears and plums.